BEHIND THE HEADLINES opens the DOK.fest München 2021
Munich, April 9, 2021
On 5 May the DOK.fest München 2021 @home celebrates its opening with the film BEHIND THE HEADLINES. In the film, director Daniel Sager accompanies two reporters of the investigative team of the Süddeutsche Zeitung (SZ): Frederik Obermaier and Bastian Obermayer meet Edward Snowden, conduct research within the arms business, follow hot and cold traces. Eventually, a plot that goes on to overthrow the Austrian government starts to take shape: the "Ibiza affair" involving the former vice chancellor of Austria and leader of the Freedom Party (FPÖ) Heinz-Christian Strache.

The audience follows up close the journalists' uncovering of the scandal, even receives access to the main editorial office of the SZ, where journalists and legal experts discuss the highly sensitive story and its possible ramifications. BEHIND THE HEADLINIES is tremendously exciting – and illustrates how essential serious and reliable journalism is in times of populism, fakes news and social media.

Daniel Sponsel, Festival & managing director: "We are happy to open the 36th DOK.fest München with BEHIND THE HEADLINES. In this film, everything comes together: a highly relevant topic, strong protagonists and outstanding cinematic craftsmanship. Daniel Sager lets us witness at first hand how European history is being written."

At the opening celebration, director Daniel Sager and the film's protagonists speak to presenter Christina Wolf and festival director Daniel Sponsel about their film, its development and the Ibiza affair. Christina Wolf and Daniel Sponsel open the festival from the (empty) Deutsches Theater München, several guests will join them via video call.

The film distributor Real Fiction Filmverleih plans to bring the film to German cinemas by the beginning of June. The protagonists Frederik Obermaier and Bastian Obermayer as well as director Daniel Sager are available for interviews.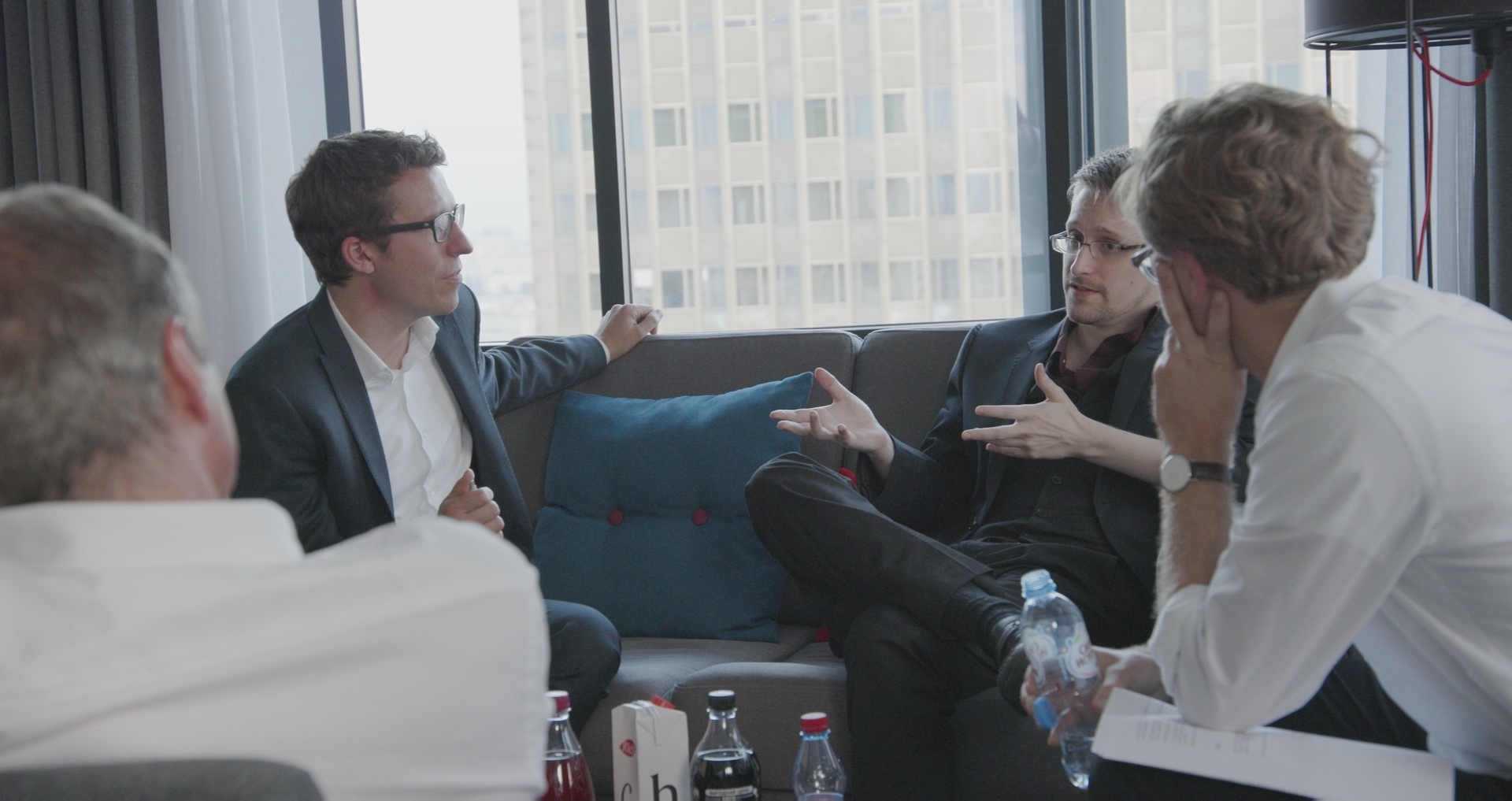 Bastian Obermayer (left) and Frederik Obermaier (right) with Edward Snowden © Real Fiction Filmverleih / DOK.fest München
Save The Date: Press Conference on 27 April
We are pleased to invite you to the press conference of the DOK.fest München @home 2021: It takes place on Tuesday, 27 April, 11 a.m. online at www.dokfest-muenchen.de.
Contact
Dr. Dominik Petzold
Leitung Presse
petzold@dokfest-muenchen.de
Telefon: 0170/2083481

Daniela Graf
press@dokfest-muenchen.de

Flurina Schnyder
press2@dokfest-muenchen.de

www.dokfest-muenchen.de